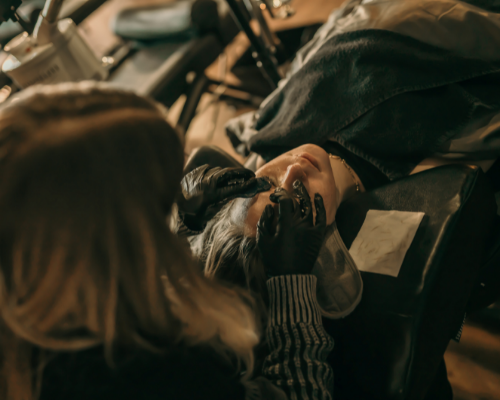 ANTEAGE® NANO INFUSION | $149+
In our youth stem cells are robust and responsive keeping our skin at its best. As we age the ability to repair diminishes due to having fewer regenerative stem cells. Bone marrow stem cells are the only stem cells that produce correct signals to heal and drastically reduce inflammation. Our signature treatment combines the forces of nano technology along with bone marrow stem cells to actively treat signs of aging, acne and sun damage along with decreasing inflammation in the skin. Recommended in a series of 4 treatments spaced every two weeks for best results. Includes LED light therapy.
Australian skincare brought over the pond for this intense workout for the skin will visibly lift, tighten and tone using a muscle banding technique. DermaEnergy Black Label skincare is formulated using ATP which is an energy-rich molecule that occurs naturally in our body. ATP is the key carrier of energy for so many cellular functions. Behind skin that retains moisture, soothed angry skin, youthful-looking complexions and totally balanced skin is, you guessed it, ATP. The products along with our signature technique works out the over 50 muscles in the face allowing your skin trainer to put the muscles 'back in to place'. Recommended in a series of 4 to 6. Includes Microcurrent to encourage further lifting and toning following the facial workout massage.
DR. ALKAITIS SKIN THERAPY | $99 - 60 MIN. | $139 - 90 MIN.
Transform your skin using the Dr. Alkaitis Vegan line. All products are bio-dynamic harvested to ensure maximum efficacy not only allowing you to love your results but the treatment as well. Relax and unwind while you are taken on a guided journey with aromas such as lavender, marigolds, oat buds, berries, and native African grasses. A truly healing experience to rid the skin of cellular debris to enhance product penetration and achieve an overall radiant complex. Great for all skin types.
90 MIN Treatment: Enjoy a guided journey with a full body approach to healing inside and out. Included in the 90 minute treatment - guided breathing, arm, décolleté, and foot massage.
SKIN THERAPY ENHANCEMENTS
Nano Infusion | $55
The nano pen uses several small silicone pyramids that create thousands of nano micro channels once they interact with the skin. These micro channels are a direct delivery system to penetrate product below the barrier of the skin to increase regenerative processes and promote collagen production. A custom cocktail blend is used for the nano infusion.
AnteAGE® Nano Infusion | $85
Using the nano pen mentioned above, an AnteAGE® serum that contains messenger proteins and anti inflammatory ingredients to support the overall functioning of the skin. Vials include: Anti Aging, Brightening, and Clarifying.
Lip Plumping Nano Infusion | $45
A lip scrub is first used to exfoliate the lip area. Next the nano pen is used to create thousands of micro channels in the lip vermillion and on the lips themselves. Hyaluronic Acid is then infused to visibly plump the lips. Results can last up to two weeks.
LED Light Therapy | $25
Developed by NASA in 1987, LED light therapy uses different colors of light at different nanometers to penetrate the skin and treat a variety of skin conditions.
Microcurrent | $25
Microcurrent involves a low grade electrical current to "train" your facial muscles to appear more lifted, tightened, and firm. In fact, its nickname is the "non invasive face lift".
HydroJelly Mask | $30
An Urban Routine client favorite! The hydro jelly mask solidifies creating a vacuum seal that pushes all the beneficial, yummy ingredients into your skin. After the jelly mask solidifies, it is peeled off. Each mask is infused with electrolytes derived from algae that benefit your skin by helping achieve a natural moisture balance, resulting in healthy, hydrated, and supple looking skin. These masks have incredible soothing and calming effects - the perfect way to put the finishing touches on any facial and waxing treatment.
Facial Cupping | $20
Facial cupping is similar to body cupping in the way that it pulls blood in to the area of skin underneath where the cups are applied. This saturates the surrounding tissue with fresh blood and promotes new blood vessel formation. Cuppings also promotes sterile inflammation. This is a form of pathogen free trauma. It increases oxygen rich blood circulation, strengthens connective tissue, stimulates cells responsible for collagen production and relaxes muscle tension. It will visibly brighten the skin, minimize scarring, fine lines, wrinkles, tones the face, decreases puffiness, regulates oil production, and improve nutrient delivery.
Gua Sha | $20
Gua Sha helps improve muscle tone, blood circulation, improves fine lines and wrinkles, promotes lymphatic drainage and relieves muscle tension.
Fortify Scalp Treatment | $25
Fortify by Cosmedix® is a pre cleanse cooling enzyme scalp treatment infused with invigorating skincare ingredients that gently exfoliate a dry scalp, remove buildup and help restore softness and shine to dry, damaged hair and scalp.